The Greek cMDF competition is about to be launched and will run from 8 – 31 March 2022 30 April 2022.
This competition aims to contribute to the cultural education of elementary or middle school students, through 3D collaborative manufacturing activities. The winners will be awarded 3D printed medals (gold, silver, bronze), with the engraved logo of the iPRODUCE project. The best idea (1st prize) will be manufactured using diverse 3D printing technologies.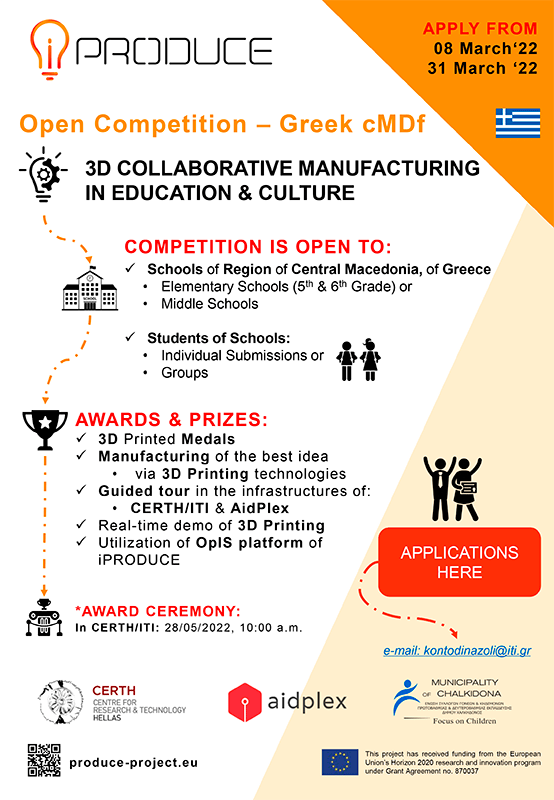 The competition aims to:
Contribute to the

cultural education

of elementary or middle school students,

through 3D collaborative manufacturing activities; 

Encourage the participation of

schools/students

, allowing for creative ideas and innovative solutions to be explored and implemented, by following the principles of

co-design

and

co-development;

Support

winners

in the collaborative design and development of prototypes to reach further stages of

prototype development

and

implementation

of their ideas by incorporating

3D printing

and

AR/VR

technologies.
Who can apply?
The competition is open to schools of the region of Central Macedonia of Greece, namely Elementary Schools (5th & 6th grade) or Middle Schools (all grades). Submission can be done either individually or by a group of students.
What should be submitted? 
Participants are invited to:
 Select one of the defined challenge ideas (A or B),

 Design a sketch/ 3D model (in paper).
 On top of this sketch/ model, the participant should add specific features related to the culture of one of the project's cMDF countries: Denmark, France, Germany, Greece, Italy, or Spain.
Submission and deadlines
Submissions should be sent by email using the dedicated application form and including a digital image of the design to be submitted.
Email

– Theodora Kontodina – kontodinazoli[@]iti[.]gr

Subject:

iPRODUCE Open Competition 
The competition opens on 8 March 2022
DEADLINE for submissions: 30 April 2022
Want to know more?
If you need more information please visit iPRODUCE's competition page.