The French cMDF competition – iPRODUCE My Mobility – deadline for submissions was on 25 March and received several interesting applications. Members of the French Core Group were invited to evaluate the submissions and now, the results are finally out.
With no special order, let's take a look at the 3 French cMDF competition winners.
VLOTEK
Meet VLOTEK, led by Anthony Bordron. 
Guided by the motto "Less is more",  VLOTEK proposes simple, basic, economical and popular disruptive alternatives to reduce the impacts of mobility and replace the use of the household's second car. 
VLOTEK allows families with children and the most modest citizens, to achieve an accessible, sober and local ecological transition towards sustainable and resilient mobility tools. 
For that, it provides 2 types of answers:
Several kits to extend/increase the functionalities of a standard bike to the specific needs of families and cyclists.

A 4-person vehicle, a symbol of minimalism and frugality on wheels (the brand's "Jolly Rogers" project). This is intended for people to use in their daily trips, such as going from home to school/work or running errands. By using this vehicle, a person can ride with 2 or 3 more people or transport loads, in a sheltered area, using a bicycle lane, in safety, and at a lower cost both to buy and to use.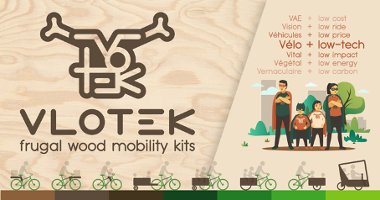 KARBIKES
Another competition winner is KARBIKES carried by Lucas Vançon and Gaëlle Richard.
KARBIKES is the crossing of the bicycle and the car.
To move around all year long without polluting and in safety, KARBIKES develops several models of electric cargo bikes equipped with 4 wheels for stability and a body for protection against the weather. 
The two-seater tandem model allows you to go out as a couple, do the shopping, or transport up to 2 children. The cargo models are adapted to the expectations of professionals that deliver parcels or transport equipment and even cab bikers!
In short, KARBIKSES allows you to experience the pleasure of the bike and the comfort of the car.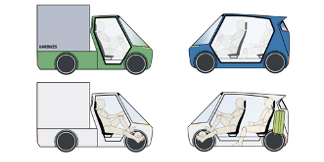 VIPEDI
Last but not least we have René HIRWA NSHUTI, also awarded in this competition with the project VIPEDI.
René is currently in his final year of a Master's degree in Mechanics at the University of Rennes 1 and has been granted the National Student Entrepreneur Status (SNEE) by Pépite Bretagne.
VIPEDI aims to improve urban mobility with a folding bicycle solution, perfectly adapted to intermodality thanks to its one-step folding mechanism.
VIPEDI will allow its users to easily and quickly combine several modes of transportation during the same trip while maintaining a daily physical activity.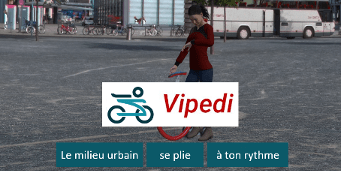 Stay tuned for more information about these winning projects and how iPRODUCE will collaborate with them in the upcoming months.