For four days (30 May – 2 June 2022), the iPRODUCE project was at the Hannover Messe, the world's leading trade fair for industrial technology. The project was presented within the event area of digital platforms. The project's participation was also used to discuss the social manufacturing requirements of a range of stakeholders, and the role that digital platforms can play in this domain.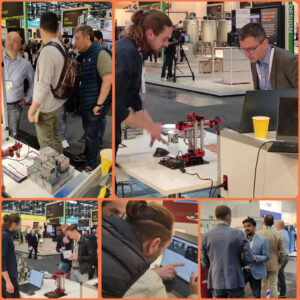 The Hannover Messe event showcased 2.500 exhibitors, over 8.000 products & solutions, and counted 600+ speakers. It had more than 75.000 visitors, which provided an interesting opportunity to engage and discuss the project with a range of stakeholders and disseminate project results. 
The project partners in attendance engaged in insightful discussions throughout the event and with target users interested in various traits of the digital manufacturing solutions. More specifically, the Digital Twin Toolkit developed in the scope of the iPRODUCE project, attracted a lot of interest and proved to be a crowd puller.
Visitors to the project booth were interested in the simplicity, ease of use and the open-source nature of the toolkit that could allow them to model various types of assets and manufacturing operations for training, testing and evaluation purposes. The insights and knowledge gained through engagement with visitors will provide a valuable contribution to the activities being developed in the iPRODUCE project.
The project's booth attracted many visitors across the event and more than 40 contacts were collected in the form of business cards. Alongside this, dedicated dissemination materials were circulated at the event with a total of 200 brochures and 600 flyers distributed to visitors throughout the duration of the event.